SLAVKO MATKOVIĆ
1948. - 1994.
Biografija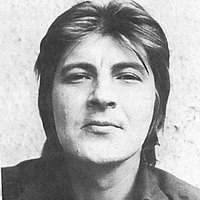 Slavko Matković was one of the most prominent Serbian conceptual artists. His work highlights the creative process as opposed to the finished work, and explores such issues as the authorship of a work of art and the relationship between the visual and linguistic spheres, among others. As the most prominent representative of artistic nomadism and in an anticipation of art movements, Matkovic was involved in visual poetry, body art, comics, poetry, painting, performance, film, mail art, etc.
  In 1969 in Subotica, Matkovic together with Balint Szombathy established the art group Bosch + Bosch. Within this small community, the group embodied contemporary artistic sensibility. Its art practice fulfilled international artistic aspirations by transcending former aesthetic categories in favor of ethics. The Group founded the magazines "Contractor e972" and "WOW" which published relevant articles in the fields of art and theory.
  During the 70-s, Slavko Matkovic created a series of works, such as interventions on paper or on book pages generated by computer codes, which explored the relationship between the visual and the linguistic. This work affirmed both language and visual art as autonomous fields, which, when brought together, constituted a new field of [removed]Processing of the Discarded Computer Materials, 1970. and Art on the Bridge, 1971. from the Marinko Sudac Collection).
   Matković emphasized ideas and processes, whose results, although documented, became less important to him. This procedure is evident in works such as Photographing Clouds,1970, when he, over a six months period, photographed the clouds above his home every day. Or, in project Ludosko Lake, dated the same year, when he intervened on the lake surface with A4 format papers strung on a nylon thread. A famous action, Counting Gallery Visitors According the Sides of the World, performed at the SKC Gallery, 1972, involved his raising crossed ropes from the gallery floor which unepectedly  divided the space and the public into 4 sections, after which the visitors in each section were counted. Two examples of his body art actions are Substance Breaking Through the Matter, which involved puncturing sweaters with canned spray, or, the action Ashes, where the artist's body becomes both subject and object of the art. During 1974 and 1975, with the help of Ida Biard and Gallerie Tenants, Matkovic started a multi-part project, Yugoslav Showcase – Distribution of Total Redounds, which reflected on the establishment of his art group. Simultaneously, he published the advertisement Ich bin Künstler, in the German daily "Harzburger Zeitung".
  In 1971 Matkovic started experimenting with comics, undermining narration and affirming the autonomy of the words. He created multilayered collages of meaning to be decoded by the reader. Comic cycles dedicated to pop stars, My Name is Beatle (1971.) Rolling Stones Live Here (1971.), Help (1971) and Nekerman – a consumer's comic from 1979, are included in the Marinko Sudac Collection.
  In the eighties, Matkovic intensified theme and the de-authorization of art works, and introduces elements of irony and absurdity in his work. During 1981 on the streets of Rijeka he distributed invitations to his one man exhibition in Mali salon. Photographs of the actual distribution of invitations to unknown passers-by taken by Balint Szombathy, were included in the exhibition. During this period Matkovic began a poetic dialogue with his alter ego, the comic hero, Alan (the poems Antigaf, Slavko Matkovic alias Alan Ford, and autobiographical comic Deautorizacija – Alan Ford & Art Lover in 1981 are in the Collection). Increasingly Matkovic began to "sign" his works with a stamp bearing the image of comic book heroes. Mail Box Art created in 1981, was a mixed media work consisting of boxes, letters, postage stamps and, in the lower right corner, label "Art in newsprint". Thus, by literally constructing an art mail box Matkovic played with the meaning of the mail box and created a parallel between the art (mail art), and life. In 1983, he executed Do It Yourself, artist-drawings and instructions on how to commit suicide.
  During the 90s, at a time of poverty and the negation of culture in Serbia, Matkovic declared everyday actions such as his  reading or thinking about art, as works of art themselves. He exhibited rarely and only to a few close friends. For the body art action Face, he wrapped his own face with self-adhesive tape, thus interrupting his flow of oxygen and almost suffocating himself. His performance was interrupted by the audience. Matkovic's artistic personality was perhaps best illustrated by the words of Balant Szombathy, "Matkovic did not withdraw from real danger generated by his role as an anti-artist … He would boldly face danger, because he was not able to resist the challenges and temptations which he felt created the possibility of reaching absolute purity in poetry and ideas. He did not take shelter, even if he should have, and even if some of his poetic adventures were physically threatening, simply because he didn't differentiate between life and art – for Matkovic this historic maxim was not a mere phrase or linguistic juggling."
  Slavko Matkovic was born in Subotica in 1948 , where he died in 1994.
J.Bubaš
Projekti u kojima su izlagani radovi
umjetnički utjecaji
SLAVKO MATKOVIĆ utjecao je na:
Na SLAVKO MATKOVIĆ utjecali su: