TOMISLAV GOTOVAC
1937. - 2010.
Biografija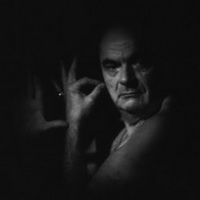 Many years of consistent work in the field of experimental film and performance made Tomislav Gotovac one of Croatia's most important contemporary artists. His love of film began in childhood spent watching film classics in Zagreb's cinemas. After the break of Yugoslavia with the Soviet Union, the culture of the Western bloc slowly began to penetrate into the region through cinema. After completing high school, and one year at the Faculty of Architecture, Gotovac worked as clerk for several years. In 1967, he enrolled at Academy of Theater, Film, Radio and Television in Belgrade where he earned his degree under the Oscar winning film director, Alaksandar Petrović.
Beginning in 1970, Gotovac began to portray daily activities within the sphere of art through public performances such as Haircut and Shaves (1970, 1971), and Watching TV (1980). In 1971, he performed in Lazar Stojanović's film Plastic Jesus. The film was banned due its subversive content, preventing Gotovac from graduating untill 1976. In 1971, Gotovac ran naked through Belgrade's Sremska Street. Gotovac reenacted the performance ten years later on Ilica, Zagreb's main street, in his performance entitled  Zagreb, I love you (running naked, kissing the asphalt). The performance shocked Zagreb's otherwise dormant public. 
Gotovac's film-making processes celebrated a structuralist approach to the medium. He developed his aesthetic by watching the same movies countless times. This method allowed the action and characters to fall into the background, thus bringing the language of film itself to the surface as the essential creative process. His experimental films, for example, Afternoon of a Faun (1963.) and Circle (1964.) through continuous repetitions, achieve a consistent rhythm through which his personal history is revealed.
During the 60s, Gotovac applied editing principles to his visual arts practice, creating Dadaist collages based on themes in his everyday life. The art historian Ješa Denegri interprets these collages as intimate diaries consisting of cinema tickets, crumpled notes, boxes of matches, maps of urban transport, cigarette butts, close and personal items that were all part of the artist's life.
His fameous photo cycle Foxy Mister (2002), photographed by Tomislav Čuveljak, was inspired by the photos of porno diva Teresa Orlowsky. Gotovac reenacted the same poses as the porn diva published in the magazine "Inside Foxy Lady", using his own body as the subject. The discrepancy between the ironic detachment his body provokes in those poses and the admiration for the porn diva, creates multilayered interpretations of pornography, its protagonists and consumers.
Tomislav Gotovac was born in 1937 in Sombor in Vojvodina. In 1941 he moved with his parents to Zagreb. He has exhibited in numerous solo and group exhibitions throughout the world. In 2005 Gotovac changed his name to Antonio Lauer. In 2007 Gotovac was awarded the Croatian Association of Visual Artists' Life Achievement Award. Tomislav Gotovac died in 2010.
J. Bubaš
umjetnički utjecaji
TOMISLAV GOTOVAC utjecao je na:
Na TOMISLAV GOTOVAC utjecali su: