VLADO KRISTL
1921. - 2004.
Biografija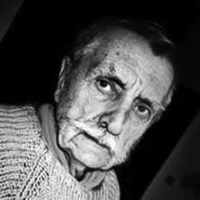 Art of Vlado Kristl was marked by constant struggle against the imposed conventions, as is evident in his rich oeuvre of  drawings, paintings, animated and experimental films, cartoons and posters. He was a member of EXAT 51 and one of the pioneers of the Zagreb School of Animated Film. During World War II he worked for Kristl Agitprop in Otocac, where he made posters, flayers, illustrations and cartoons. After the war, in 1949 he graduated from the Academy of Fine Arts, and became a member of the EXAT 51 in 1951. In 1953  Vlado Kristl together with Ivan Picelj, Aleksandar Srnec and Bozidar Rasica, exhibited at the first exhibition of abstract art in Yugoslavia and entire communist world at the Croatian Association of Architects in Zagreb.
During EXAT51 phase his paintings, mostly named Compositions, were characterized by geometric abstraction. During the late fifties, after returning from South America, Kristl made monochromes – white squares on white background and black squares on black background, named Positive and Negative (1959) in which he withdraw from the geometry of EXAT to affirm materiality of painting and autonomy of image. That same year, Kristl published poetry collection Trifling Lyrics and worked as a draftsman for the animated movie Theft of Gems produced by Zagreb Film. His famous animated film La Peau De Chagrin / The Magic Skin was filmed in 1960 after the story by Honoré de Balzac, gaining him prestigious awards in Vancouver and Belgrade.
A year later Kristl published a collection of poems Five White Steps, and filmed Don Quixote, an animated anthology film. Kristl managed to break conventional animation with cacophonous music, pictogramic depiction of characters and by ignoring the perspective. Don Quixote won him the first prize at the International Short Film Festival Oberhausen in 1962. In the same year he made painting cycle Variations, oil on canvas or cardboard with motif of orthogonal network. Kristl used the same motives in the series Variables, but this time made of wire, wood and paper. One work from the cycle was exhibited at the 1963 New Tendencies exhibition in Zagreb.
These Kristl's cycles, according to Ješa Denegri present "deliberate uncertainty of performance.". Short film General and the Actual Man from 1962 criticized communist government which is why the film was censored for years. For the same reason, Vlado Kristl moved to Germany. From 1979 he lectured at the Hamburg Academy of Fine Arts. During that time he made a series of experimental films which significantly contributed to the creation of a new wave of German film and influenced directors such as Fassbinder, Herzog and Wenders.
Vlado Kristl was born in 1923 in Zagreb. He died in 2004 in Munich.
J. Bubaš
umjetnički utjecaji
VLADO KRISTL utjecao je na:
Na VLADO KRISTL utjecali su: