DRAGAN ALEKSIĆ
-0001. - -0001.
Biografija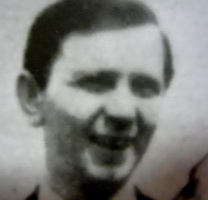 Dragan Aleksić (Bunić, near Korenica, 1901. – Beograd, 1958.), was a poet, author, journalist, passionate filmmaker. Aleksić graduated from high school in Vinkovci. His first poems were published in 1918 in Zagreb for the high school newspaper "Omladina/Youth". From 1920 Aleksić studied Slavic languages in Prague, where he coincidentally discovered his penchant for Dadaism, and incorporated it both in his speech and in the form of his written manifesto. He also wrote stories, poems, plays and publicly declared himself a theoretician of "organic art" – orgart. In his own words, he was in contact with leading European Dadaists: Kurt Schwitters (Hannover), Raoul Hausmann, Walter Mehring, Richard Huelsenbeckom (Berlin), Max Ernst (Cologne), Tristan Tzara (Paris).
Aleksić corresponded with Ljubomir Micic and thus, in Prague in April of 1921, his collaboration with "Zenit" as a radical and consistent Dadaist began. He organized public events of Dadaism and Zenitism with Branko Poljanski, who left the art and theater scene in Slovenia and travelled to Prague via Vienna. Aleksić met Karel Teige and Jaroslav Seifert, members of the Czech avant-garde group Devĕtsil and became acquainted with their work. During his summer holidays, he returned to Yugoslavia where he lived and worked between Vinkovci, Zagreb and Belgrade. Concurrent with his work with "Zenit", he established a "purebred troop" of Dadaists, intending to develop the group into a movement.  Aleksić notified T. Tzara of these developments in May 1922. Members of the troop included: Dragan Sremac, Vido Lastovo, Slavko Stanic, Mihailo S. Petrov, Anthony Milinkovic.
Aleksić was perceived as a danger to "Zenit" and its movement, and thus Micic ended their collaboration. In return Poljanski published a polemic and pamphlet-like Dada-Jok magazine in late May. Aleksic stands out as an important animator of the group and as a publisher of the magazines "Dada Tank" and "Dada Jazz" (1922). He performed independently or with members of his "troop" at the Dadaist manifestations in Osijek, Vinkovci, and Subotica. He established cooperation with domestic and international journals of the same or similar orientation: "Ut" (Novi Sad), "Ma" (Vienna), "Hypnos", "Black on White", "Eternity", "50 in Europe". Aleksić published Dadaist texts up to 1928, but in the meantime, he gradually returned to more conventional language in his analysis and descriptions written for the to journals "Thought", "Contemporary Review", "Ideas". His themes were Negro art, Constructivist painting, relationship between cinema and poetry, and the pragmatics of documentary genres: reportage.
Simultaneously with his intense journalistic period, and thanks to the organization of the Belgrade Film Fans Club in 1924 Aleksic helped Boško Tokin to direct Kačaci on Topčider or So Help Us God, a film burlesque in two acts based on the screenplay by writer Branimir Cosic.
During the World War II and Yugoslavia's occupation, Aleksić was arrested and tortured in prison. After several months he was released with severe spine injuries. He was confined to bed permanently, which made his work impossible.
Aleksić's contributions to "Zenit" were strongly influenced by Dadaism. Some critics interpreted Aleksić's Dadaist influence as an important stage of development in Micić's magazine. During his Zenit phase Aleksić wrote in manifesto style, but also published poetry, fiction, dada-essays (on Schwitters and K. V. Tatlin) and Dada-criticism (on Czech poet J. Seifert and his collection of poetry City in Tears).
At the beginning of 1922  members of the Vinkovci Dadaist Group surrounding Dragan Aleksic were considered an integral part of the Zenit Movement. They presented their poetry under the name of "The Youngest Yugoslav Zenitists" . Similarly, Aleksić's novel-grotesque Incursion of Mr. Christ (intended to be "a Dadaist Renan") was accepted as a fulfiling of the Zenitist program and listed in the Zenit Library. It is likely that the polemics between Aleksić and Micić prevented its publication, even though a printed advertising-propaganda note announced it would be published.
Vida Golubović
umjetnički utjecaji
DRAGAN ALEKSIĆ utjecao je na:
Na DRAGAN ALEKSIĆ utjecali su: