Biografija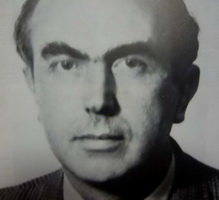 Vane Bor is one of the most important members of the Serbian surrealist movement. He is the creator of a number of collages, photograms, photographs, theoretical texts and poems. In 1925 Bor, as high-school graduate, published his first contribution to the magazine "Svedocanstva / Testimonials" and in 1926, took his first photograph in Vrnjacka Banja. That same year, as a law student in Paris, Vane Bor socialized with surrealists, and a year later his first collages and photo-montages were created. While his collages reflected playfulness and wit, reduced material and the atmosphere of insecurity in his photo-montages captured a multilayered aura of dreams and memories. Many of his works reflected interest in avant-garde film, while Bor himself considered photo-montages a form of static film.
Inspired by the works of Max Ernst in1928, Bor began his first experiments with the technique of "crumpled  paper" and "wrinkled images", as preserved in his only remaining canvas Ball With Eeaweed On the Apparent Horizon. In 1929, together with Koca Popovic and other artists gathered around the Parisian magazine "Revue du Cinéma" (no. 3), Bor signed the protest Man of Taste, against a film distributor who shortened the film version of the series Yujor Mysteries. With M. Ristic he created a unique book of collages and texts M'Vraua, which was lost.
 
Again with M. Ristic in 1928 and 1929, Bor created a series of photograms in Vrnjacka Banja, some of which in 1930 were published in the almanac L'Impossible. These photograms appeared as an addendum to Mentioned By the Way, one of the most important texts published during the surrealist movement. These photograms were made with pieces of broken glass on photo sensitive surfaces. Their visual language, along with photographs of Nikola Vučo, signified surrealist rebellion against petty-bourgeois world views. The almanac, besides photograms, published Bor's collages (Mystery of Man's Head) and paintings (On The Market of Mute Poetry, Oedipus in the Space). Both works were later lost. In 1930 Bor co-signed the Surrealist Manifesto. Jean-Paul Dreyfus in the Parisian journal "Revue du cinéma" dedicated his critique of Fritz Lang's film to Bor.
Bor's photographs, just like his photograms created during 1928 – 1936, were characterized by interplays and simulations of movement and the passage of time. These achievements were made through careful editing, rather than the automatism that was characteristic of Surrealism. The photo portraits of Vlado Habunek, Vjera Bakotić-Popovic, and Koca Popovic – just like the photographs made in 1935 by Milica S. Lazovic Shadow and One Minute Before the Crime – chose to create a film-like quality by repeatedly photographing chosen motifs and introducing strong contrasts of light and shadow to create phantom-like expressions reflecting anxiety.
At the beginning of the thirties Bor worked for the magazine "Surrealism Here and Now" and in 1932 with Ristic published the book Anti-wall . A year later the Parisien journal "Le surréalisme au service de la Revolution" published Bor's private letter addressed to Salvador Dali, whom Bor met in 1931. During the thirties he published articles on psychoanalysis and film in the magazines "Danas / Today" and "Politika / Politics". As a doctor of science Bor was appointed lecturer at the Law Faculty in Subotica. In 1936 he filmed a documentary about Belgrade. During the period between 1938 – 1941 Bor worked as an assistant professor at the Law Faculty in Belgrade.
In 1944 Bor left the country illegally and moved to London where he created a cycle of collages. During the sixties in London, Bor created a series of surrealist paintings from non-painterly materials. In 1984 he became a member of Oxford University Geological Society and the University Anthropological Society. In 1990  the Museum of Contemporary Art in Belgrade organised a retrospective exhibition of his work.
Vane Bor was born in 1908 in Bor. He died in 1993 in Oxford.