OSKAR DAVIČO
1909. - 1989.
Biografija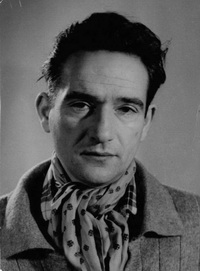 Oskar Davičo, Serbian poet, novelist and essayist, commenced his literary work during high school. From the very beginning, along with Đ. Kostić, Đ. Jovanovic and D. Matic, he participated in the founding of the Belgrade Surrealists group. In 1929 in collaboration with Đ. Kostic and Đ. Jovanovic he published the book of poetic prose Anatomy. In 1930 Davičo signed the Surrealist Manifesto for the almanac "L'Impossible", where he also published one of his drawings.
In 1938 after five years imprisonment for being a member of the Communist Party, he published a collection of poems. Between 1938 and 1940 he collaborated with the magazines "Naša stvarnost/Our Reality" and "Pečat/Seal". Davičo was imprisoned  in a concentration camp from 1941 until 1943 for his political beliefs and after his release,  he joined the Partisan movement. After the war he published several collections of poetry: Zrenjanin (1949) Višnja za zidom/Cherry Behind the Wall (1950), Hana (1951) Čovjekov čovjek/Man's Man (1953), Nastanjene oči/Inhabited Eyes (1954), Flora (1955) Kairos (1959) Snimci/Recordings (1963) Trg M/M Square (1968), Pročitani jezik/Read Language (1972) Trema smrti/Death's Fright (1982) and many others. In 1955 he co-founded the magazine "Delo" and became its editor. In 1981 Davičo published a memoir Pod-sjećanja/Re-Minds in which, among other things, he recalls his affiliations with Surrealist movement.
Oskar Davičo was born in 1909 in Sabac. He studied Roman languages at the Sorbonne in Paris (1926 -1928), and at the University of Belgrade, where he graduated in 1930. He was a contributor to the magazines "Borba/Fight", "Glas/The Voice", and wrote articles reporting from the Nuremberg Tribunals for war crimes. He fought with Markos's partisans in Greece, after which he published the book Amongst Markos Partisans (1947). During the same year he ceased his activites as a journalist and dedicated himself to literary work. Oskar Davičo died in Belgrade in 1989.
umjetnički utjecaji
OSKAR DAVIČO utjecao je na:
Na OSKAR DAVIČO utjecali su: