BOJAN BRECELJ
-0001. - -0001.
Biografija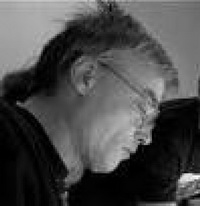 Bojan Brecelj (1953, Ljubljana) is a Slovenian photographer, a former member of the Šempas Family.
Bojan Brecelj studied construction, biology and physics.
Brecelj was a part of the Šempas Family from 1977 to 1978, where he made numerous documentary photographs of their life. The commune-style community was a continuation of the OHO group, led primarily by Marko Pogačnik and Marika Pogačnik in Šempas, Slovenia. His work focuses on documentary photography, experimental projects and topics relating to the environment and society.
He is the co-founder of the Sog. Org silk-screen printing atelier (1977), ŠKUC Gallery (1978) and Equrna gallery in Ljubljana. In 1984, he co-founded the BRUT film documentary and artistic video production, and in 1998 the photo press agency i/p/a PRESS >> IPAK.
In 2009, Brecelj started the Selffishstudio project, a photographic installation for taking self-portraits. The installation uses a mirror which the user can look at and activate the camera behind it – becoming an active object and subject of the work. Brecelj later added to the project a user statement, and Brecelj set the installation in numerous cities.
In 2016, he started working on the MED land project.
umjetnički utjecaji
BOJAN BRECELJ utjecao je na:
Na BOJAN BRECELJ utjecali su: