PAUL NEAGU
-0001. - -0001.
Biografija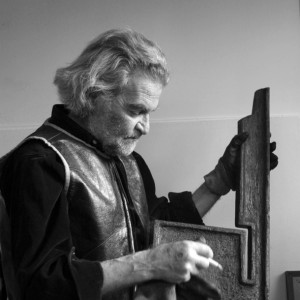 Paul Neagu (1938, Bucharest – 2004, London) is an artist whose media include drawing, sculpture, performance art and watercolour.
He graduated Painting in 1965 at the Beaux-Arts Academy in Bucharest. Among his influences are Darcel Duchamp and Joseph Beuys, and Constantin Brancusi, who was his mentor.
His early physical labour employment – electrician, cartographer, draftsman, railway worker, influenced his later work with palpable objects. His objects (palpable and tactile sculptures started in the early 1960s) were created to be touched, opened and moved (Palpable Art Manifesto, 1969).  In 1969, Richard Demarco visited Neagu in Bucharest and enthusiastically offered him a "first show/performance of palpable art" in his gallery in Edinburgh.
His performances are divided into three groups: Blind Bite, Horizontal Rain and Going Tornado, following the three stages of awareness in Neagu's philosophical system. The groups came from his interest in the philosophy of Steiner, Ouspensky and Gurdjieff.
After coming to Britain in the 1970s, he initiated the Generative Art Group (in 1972) – made up of him and four fictitious artists (Philip Honeysuckle, Husney Belmood, Anton Paidola, Edward Larsocchi, Paul Neagu), each representing a different part of his creative psyche. He later started a gallery of the same name in London.
In 1974, he made the first draft of the Table with curved legs. Starting in 1975, he created Hyphens – three-legged workbenches in the folk tradition of Romanian furniture and Starheads – sculptures with a star-shaped tip. His other series included Antropocosmos from the early 1970s (humans, body parts and objects reconstructed in three-dimensional cells), Iris (early 1970s) which based on the human eye iris, and other palpable sculptures and paintings.
umjetnički utjecaji
PAUL NEAGU utjecao je na:
Na PAUL NEAGU utjecali su: