KAREL ADAMUS
-0001. - -0001.
Biografija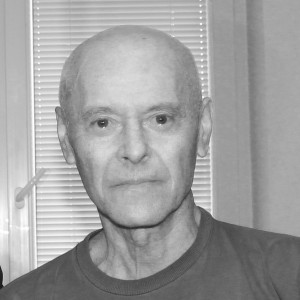 Karel Adamus (1943, Plzeň) is an artist who worked as a poet but later shifted to visual poetry, of which he is an essential representative in former Czechoslovakia.
His work is primarily based on visual poetry, divided into several groups. In addition to the structures of typefaces, typescripts and other visual elements, he records movement in his poems, whether in space or time. Some series of his works include Cigarette Poems (1969 – 1970) – with burning paper; Mobile Poems (1970 – 1971) – with movement in the structure and form of a poem; Poems of the Score (1973 – 1976) – musical scores created within the tradition of minimalism; Poems Object and Subject Poems (1971 – 2002) – drawing inspiration from Jiří Kolář.
In his Wind Poems (1983 – 2007), the artist allows a sheet of paper to float freely in the breeze, applying a brush or pen to it while controlled by the wind. In this, he acknowledges the deliberate inclusion of the environment in which the work was created and psychomotorism. He as well creates objects and assemblages with some Dadaist influences in their execution and visual metaphors.
Adamus has also written a series of short stories, influenced by eastern philosophy, published in several parts under the title Po dně a podněžníci.
umjetnički utjecaji
KAREL ADAMUS utjecao je na:
Na KAREL ADAMUS utjecali su: