ZORAN POPOVIĆ
1944. - 1944.
Biografija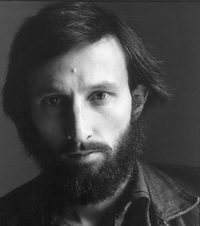 Zoran Popović (1944, Belgrade) is one of the principal artists of New Art Practice in former Yugoslavia. He was part of the informal group of artists gathered around the Students' Cultural Centre in Belgrade in the 1970s. The group included, alongside Popović, Marina Abramović, Era Milivojević, Gergelj Urkom, Neša Paripović and Raša Todosijević.
He graduated from the Belgrade Academy of Arts in 1969, with a master degree in 1973.
At the end of 1960s, Popović started creating kanc art (office art), art made of office materials with the basic premise of a ready-made. Then, he moves to analytical conceptualism. For Popović, it is superfluous to believe da any artistic activity can encompass the vital aspects of the world, the reality of the world is foreign to the artistic work, and that is what the artists focused on the thought processes of the conceptualisation of the language of art. After embarking in conceptual art in the mid-1970s, and close to the New York Art & Language, he set a critical-political work in the domain of cultural and social politics in art. His political postconceptual work was done in two phases: first, as setting a critique of the art system and culture in the spirit of post-situationist and neo-Marxist analyses of late capitalism and liberal socialism; and second, as a realisation of the documentary interpretative social art as the critique of class everyday life.1 During the 1980s, he moved to the traditional media of drawing.
Popović started working in the media of video in 1966. The film Glava/Krug (1968/1969) has a premise of making a complete and comprehensive portrayal of an object (head), movement (of the head around its axis) and all the shapes on the object as a two-dimensional image. It was intended to be projected simultaneously on eight projectors on a loop.
One of notable conceptual works is from the series of Aksiomi (1972), where he used small light bulbs in a darkened room to make the configurations of eight elemental axioms (cross, square, circle, diagonal, period etc.). His work on the series (1971 – 1973) in various media entails the application of knowledge, and the texts on the works are a discussion on the nature of art, artwork, and the function of art.
In 1973, Popović was one of the eight Yugoslav artists Richard Demarco invited to his Festival of Arts in Edinburgh.
With the members of the Art & Language collective, in 1976 he shot the film Struggle in New York. The film, bearing a sharply critical view on the art of the time and capitalism, was filmed in New York in 12 segments connected by the topic of art and society.
---
1 Miško Šuvaković, SKC ili o beogradskom post/konceptualizmu, in: Miško Šuvaković et al., Istorija umetnosti u Srbiji. XX vek. Radikalne umetničke prakse, Belgrade: Orion Art, 2010, pp. 455-456.
umjetnički utjecaji
ZORAN POPOVIĆ utjecao je na:
Na ZORAN POPOVIĆ utjecali su: