KOLOMAN NOVAK
-0001. - -0001.
Biografija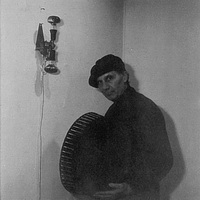 Constant research on human perception led Koloman Novak from abstraction and later informel, ultimately to the creation of lumino-cinetic objects. Although he was working in Belgrade where moderate modernism dominated in the mid-sixties, he was unique in his efforts to create a synthesis of illusionistic and concrete forms, time, color, movement, light and sound. Koloman's art practice was quickly recognized outside Serbia, and thus he participated in the New Tendencies 3, 4 and 5 exhibitions at the Gallery of Contemporary Art in Zagreb (1965, 1969, 1973), and at the International Exhibition of Kinetics at the Museum of the XX century in Vienna.
The beginnings of his commitment to neo-constructivism were visible in the landscape The Relief Trail in 1961, an informel painting with inbuilt mirrors, after which he turned to modulators – sculptures with embedded mirrors creating a kaleidoscope reflection effect. Reflection brought dynamism and intensified interaction between work and viewer. His first mobiles developed from the movement of  surfaces, such as circles with electric motor within Kinematic Variable dated 1964. In the interim, Koloman experimented with multi-dimensional images, mosaics of miniature pyramids and additive images created by applying a white color with jagged brush and spraying different colors at certain angles.
During New Tendencies 2 Koloman created a sketch for a lumino-cinetic object, which due to its material and technical demands couldn't be produced until 1967 when it was finally exhibited at the Yugoslav Art Triennial under the title Luminous Variable. In the same year Koloman exhibited at the International Exhibition of Kinetics at the Museum of the XX century in Vienna.The previous year he moved to Vienna where he joined the circle of artists of avant-garde gallery Im Griechenbeisel, where his prolific period commenced. In Vienna, he managed to achieve his goal of color, movement, light and sound synthesis.
In 1968 Koloman created  The Great Light Organon, which synthesized sound and light, and produced several lumino-cinectic objects in interiors and exteriors. After his return to Belgrade in 1971, Koloman refined and developed his earlier art inventions, while in the 80s he elaborated on stroboscopic images and developed numerous drafts. In 1995 at the Cultural Centre Gallery in Belgrade, together with a series of built objects, he exhibited his robot which created different light effects while moving through space. Between 1996 – 1997 Koloman lived in London, and later exhibited at the Summer Exhibition at the Royal Academy of Arts in 1998.
Koloman Novak was born in Dobrovnik, Slovenia in 1933. During 1955 – 1959 he studied at the art academy in Belgrade. Koloman lives and works in Belgrade.
J. Bubaš
Projekti u kojima su izlagani radovi
umjetnički utjecaji
KOLOMAN NOVAK utjecao je na:
Na KOLOMAN NOVAK utjecali su: