OLEG KULIK
-0001. - -0001.
Biografija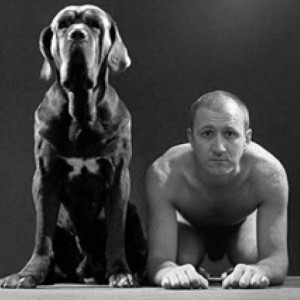 Oleg Kulik (1961, Kyiv) is one of the leading artists of Russia's contemporary art scene. He is considered to be one of the founders of actionism in post-Soviet Russia.
Kulik graduated from Kyiv Art School in 1979 and Kyiv Geological Survey College in 1982.
Kulik's works explore the relationship between humans and animals on an emotional and physical basis, focusing on boundaries between deviance and normal behaviour. Since the 1990s he created provoking events and curatorial projects. His character of the mad dog persona was first performed in Moscow (1994), and its use continued for over a decade. In these works – performances and photo-series – he assumes the role of a violent and unpredictable animal, often in public spaces, and frequently chains himself to objects or people.  This radical actionism serves as a reaction to the brutal reality of a post-socialist society, a highly ambiguous time in history.
Some of his notable works are Deep into Russia (1993), The Mad Dog (1994), Reservoir Dog (1995), I Bite America and America Bites Me (1997). His later work is often in the media of photo-collages, installations, and objects.
umjetnički utjecaji
OLEG KULIK utjecao je na:
Na OLEG KULIK utjecali su: