Biografija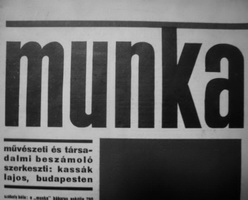 Munka (Labour) was an avant-garde magazine edited by Lajos Kassák, published in Budapest in 65 issues between September 1928 and Summer 1939. It had the subtitle Art and Social Bulletin. 
From 1930 to 1933, the topics focused on social reporting, and after on cultural, but also politics, media, everyday life, architecture, etc. Kassák indicated the magazine's independence from party factions. While a significant amount of material in the magazine was on the arts, there was a vital social and political commentary within its pages. 
Within the magazine, Kassák wanted to fulfil his idea of the artists as "cultural workers" and focused on young working-class readers with political awareness.
He published a novel type of photography in Munka, which he called "socio-photography", followed by the establishment of the Munka Circle, made up of the contributors to the magazine. They had group meetings where they debated, read poetry, held art exhibitions, social gatherings etc. As a photography group, the Munka Circle organised regular portfolio reviews and exhibitions and even briefly published a periodical, Munka Kultúr Studiója.
In terms of graphic design, Munka held relatively standard article genres and lengths and included smaller reproductions and full-page images. The covers of the first ten issues often featured brightly-coloured monochrome rectangular blocks or images with text blocks.