Biografija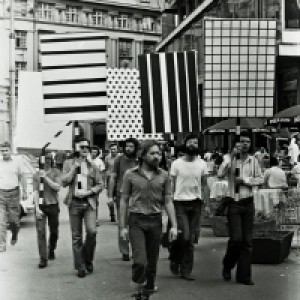 The Tok Group included artists Dubravko Budić and Vladimir Gudac as its most prominent members, and also Davor Lončarić, Ivan Šimunović, Gustav Zachel and Darko Zubčević, and ocassionaly Vladimir Petek and Zdravko Mahmed. The group was based in Zagreb and active 1972 – 1973.
Tok was one of the first groups in the former Yugoslavia to deal with the topic of ecology. They organised actions and interventions in public space locally (Zagreb, Belgrade, Pazin) and abroad (Graz, Austria).
In their material works, they would use parts of the real world and title them to showcase the ecological problems. These include a photo of factory chimneys titled Greetings from Zagreb or the shop facade with tyre tracks. They would also place see-through bins on the streets. On the streets of Graz and Belgrade, the members walked with panels showcasing essential elements of artistic expression.
umjetnički utjecaji
Na GRUPA TOK utjecali su: