VLADIMÍR BOUDNÍK
-0001. - -0001.
Biografija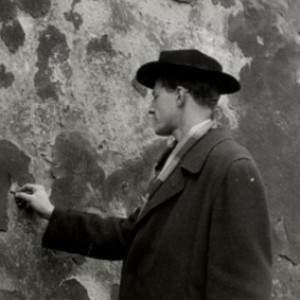 Vladimír Boudník (1924 – 1968, Prague)  was one of the critical figures of Czech post-war art, a representative of explosionism and the writer of its manifesto. He was a graphic artist, photographer, and he did painting happening on the streets of Prague.
Boudník first went to technical college, but he did not finish as he was brought to Nazi Germany as forced labour. After he was released, he studied printmaking at the School of Graphic Arts in Prague. In 1950 he started working as a graphic designer at the Kovoslužba Enterprise, and in 1952 at the ČKD Vysočany engineering works (where he met Bohumil Hrabal).
He created several Manifestos of Explosionalism starting in 1949. These were also some of the first samizdats in Czechoslovakia. Boudník believed that the way to restore society after World War II trauma stood in unleashing the potential of creative expression of all individuals. He started painting happenings on the walls in Prague streets, "teaching "people how to bring forth the explosion of imagination in them.
Most of Boudník's artworks are graphics, but he also developed several innovative printmaking techniques (active or structural graphics). Often he would use scraps found in his factory job, which he used to create abstract textured surfaces. In appearance, these earthy-toned works are suggestive of an organic matter and are the first examples of principles of accident in Czechoslovakia. His series on the Rorschach Tests (from 1966) uses a symmetrical imprint of a pattern, inspired by the psychological method.
In 1965, Boudník stared as himself (an artist) in Perličky na dně, an anthology film directed by Jiří Menzel, Jan Němec, Evald Schorm, Věra Chytilová and Jaromil Jireš. The film was based on short stories by Bohumil Hrabal. Hrabal's novella Něžný barbar (1973) deals with Boudník's life and work.
Boudník died of self-strangulation.
umjetnički utjecaji
VLADIMÍR BOUDNÍK utjecao je na:
Na VLADIMÍR BOUDNÍK utjecali su: