SWISS DADA
-0001. - -0001.
Biografija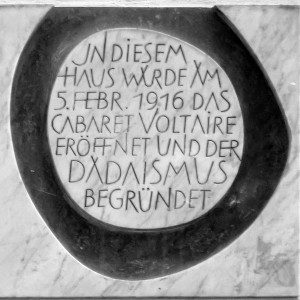 Cabaret Voltaire, the birthplace of Dada, opened its doors on February 5, 1916. Hugo Ball, like many other artists and intellectuals, in the turmoil of the First World War found a safe place in the neutral Switzerland, in Zurich.
Hugo Ball started with his surrealist Manifesto of Dada a movement characterized by absurd, denouncing of rules, opposition towards the ideals of art of the time, and a rebellion against the social conditions during the First World War.
Besides Hugo Ball, the most famous representatives of this artistic movement are Emmy Hennings, Marcel Janko, Tristan Tzara, Rixhard Huelsenbeck, Hans Arp, and Sophie Taeuber-Arp.
umjetnički utjecaji
SWISS DADA utjecao je na:
Na SWISS DADA utjecali su: