HUGO DEMARTINI
-0001. - -0001.
Biografija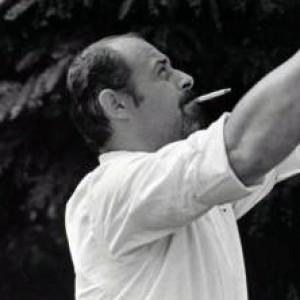 Hugo Demartini (1931, Prague – 2010, Sumrakov) was one of the significant Czech Art informel and neoconstructivist artists and a sculptor, also known for his land art and action art.
From 1949 to 1954 he attended the Academy of Fine Arts in Prague. He belonged to the so-called Czech constructivist school, and he became one of the protagonists of neoconstructivism.
In the 1950s, his works are characterised by geometric compositions. His works from the late 1950s are sketched sacral reliefs and paper collages. This was already when he moved from traditional art forms and started participating in a broad stream of abstractions. During the 1960s, Demartini created low reliefs by imprinting small objects into clay and then cast them into plaster and painted red.
Later, he would create a raster in which he would insert relief elements, most notably spheres, with each component in their separate divisions. Demartini started using chromium, using it on the one hand as a reference to the world of technology, and on the other as a reference to mirroring. With spheres, he cuts them in half, arranges them in convex and concave hemispheres. He even transferred the spheres in large scale to several land artworks on an abandoned road or in a ploughed field.
His actions in nature include those such as Demonstrate v prostoru (1968). Demartini would throw small objects (tapes, stripes, skewers, wooden sticks, confetti, fragments of cardboard, paper tubes) in the air, which allowed him to examine how each conforms to the laws of nature and gravity, with objects randomly changing during the seconds-long action.
In the mid-1970s, he started with the Mimo vymezené místo series, objects thrown over a hardboard pad. Demartini started accentuating the minimalist tendencies (Models series) –white stages without actors enclosed in transparent glass containers.
umjetnički utjecaji
HUGO DEMARTINI utjecao je na:
Na HUGO DEMARTINI utjecali su: