GABRIELE D'ANNUNZIO
1863. - 1943.
Biografija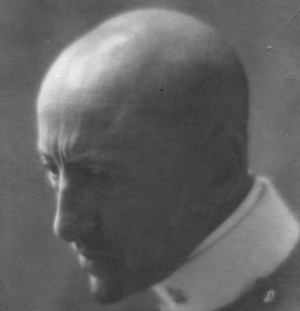 Gabriele D'Annunzio (1863, Pescara – 1938, Gardone Riviera) was an Italian poet, playwright, orator and journalist, one of the most prominent representatives of Italian literature at the turn of the 20th century. He led a very active political life.
D'Annunzio was educated at the University of Rome. He was influenced by Friedrich Nietzsche's works in both literary and political work, while his literary work connects to the Decadent movement, French Symbolism and British Aestheticism.
His writings include Primo Vere (1879), Canto novo (1882), Il piacere (1889), Giovani Episcopo (1891), L'innocente (1892), Poema paradisiaco (1893), Il trionfo della morte (1894), Le vergini delle rocce (1896), Intermezzo di rime (1884), L'Isotteo – La Chimera (1884), Elegie romane (1892), La città morta (1899), La Gioconda (1899), Il fuoco (1900), Laudi (1903 – 04), Le marytre fe S. Sébastien (1911) and others. D'Annunzio's style is characterised by fluid and melodouis style and an emphasis on the senses.
Though a prolific writer, his works failed to finance his lifestyle, and he was forced to flee to France in 1910. When the First World War broke out, he returned to Italy and passionately advocated Italy's entry into the war. He fought in the war in several branches, ending in the air force.
In defiance of the Treaty of Versailles, D'Annunzio and about 300 supporters occupied the city of Fiume (now Rijeka, Croatia) in 1919. D'Annunzio ruled Fiume as a dictator until December 1920, until Italian military forces compelled him to surrender his rule. Fiume became Italian in 1924, and D'Annunzio became an ardent Fascist.
umjetnički utjecaji
GABRIELE D'ANNUNZIO utjecao je na:
Na GABRIELE D'ANNUNZIO utjecali su: